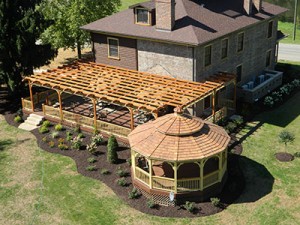 From the outside, The Brick House stands tall, sturdy and proud. On the inside, it is three stories of exquisite detail, elegant comfort and rustic beauty. Rich in history, discover a place that will take your breath away season after season.
From original handcrafted woodwork throughout the house, to the massive fireplaces gently restored, there are surprises around every corner. Here, each room has a story all its own and each room is as unique as the next. Beautifully furnished and impeccably designed from the bottom to the top, it is an escape from your average bed and breakfast.
With an inviting veranda and spectacular views from every vantage point, discover tucked away spaces to reflect, rejuvenate, relax and unwind. Inside and out, The Brick House's charm welcomes you with open arms with all the comforts of home. Enjoy modern amenities along with rustic warmth in an oasis of relaxation nestled away from it all.
Lose yourself in a luxurious setting and find yourself in a place where old meets new and everything comes together in perfect harmony.